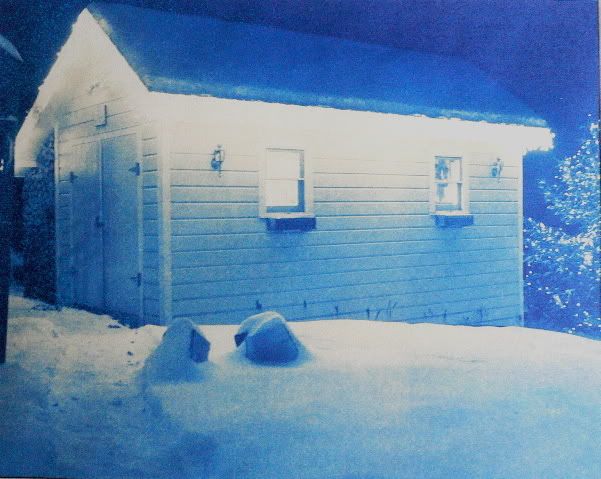 Joe's Tool Shack,Christmas,Stuyvesant,NY 2003
I feel somewhat fortunate at the moment.
Having gone thru my archive of prints and negatives these past weeks the reality of how much work I have accumulated seems surreal.
The earliest negatives date back to 1986 in 4x5 and 5x7 in size. During this time I was attending the Art Center College of Design in Pasadena lost in a fog between commercial and fine art studies.
By 1988 I was already commited to the 8x10 and was productive in the American West where I lived at the time.
From 1989 to 2000 the work was mainly 11x14/14x17 & 12x20. I was enamored with the idea of working with such large plate-type cameras,both as a means to a bigger print and also to somewhat carry on the tradition of Watkins,Gardner and Brady. Most of these negatives I have yet to print.
Whether I care to admit it or not....I think my vision has and always will have roots to the Naturalists.
My friend Gordon Baldwin who was one of the curators at the J. Paul Getty Museum's Photography Department once told me during a 1996 exhibit of mine at the Jan Kesner Gallery in Los Angeles ...." Michael your work has an Emerson feel about it ". At the time I really thought my work belonged more to the Atget -Walker Evans school. Ultimately, Gordon was right . Artists such as Peter Henry Emerson,Frederick Evans and my favorite Arthur Wesley Dow are sub-consiously in my psyche. Ghosts from the early 20th century that are prompting me to continue as if it were truly a Linked Ring .
Like them, my subject matter is also the landscape. In particular, marshes,estuaries,fields and forests. Perhaps its a form of escapism from the modern world, but I will never tire of these places.
Being in my 40's ,I must realize that the time is now to make a commitment to championing this way of seeing .Pursue it to the end as it no longer matters to me if this is out of fashion in the arts today. My work has always been for personal reasons, and as long as I stay true to my vision- time will hopefully be kind to the legacy I leave behind.